Dyches Boddiford Presents
HARD MONEY LENDING
Starting 10/5/2020
Dyches Boddiford
Earn Passive Income by Lending to Other Investors…
Let them do the "dirty work" while you earn the easy money!
You'll learn how to make money like the banks while avoiding all the hassle and mistakes made by most lenders. You'll learn how to earn huge returns and what common mistakes to avoid.
The class will deal mainly with loans made to other investors and businesses using real estate as collateral. Homeowner loans will also be discussed along the way to point out the many consumer protection laws that make homeowner loans less desirable than in the past.
Learn how to become a private lender with Dyches Boddiford. Dyches is a full-time investor who has been buying mortgages and making private loans since the early 1980's. Dyches draws upon his unique experiences to bring you a level of education you cannot find anywhere else.
You'll learn…
Evaluating the property—properly done, you will never be worried about a loan.

Evaluating the borrower. As asset based lenders, we shouldn't be concerned with the borrower, right? Well, there are a couple of things we should check or you may be sorry.

What do you do when a borrower wants an extension? Can you charge an extension fee?
"ANYONE, AT ANY LEVEL OF LENDING, NOT ONLY SHOULD, BUT NEEDS TO ATTEND THIS CLASS…"
"This is the one class that is indispensable. I have attended multiple times and each time it proves more valuable; each time I learn more that I immediately apply to my lending practice. This is a solid, in-depth training class that leaves nothing out. In fact, it offers more information than you can absorb in a weekend. Anyone, at any level of lending, not only should, but needs to attend this class, not once, but several times. I do."
– Previous Attendee
How much can you charge in late fees and how soon?

What wording you need in the prepayment penalty clause to allow a prepayment penalty no matter what, even at foreclosure?

When do you have to give a default notice and the right to cure (and when do you not)?

Who must get a truth-in-lending statement and who doesn't? What are the penalties if you don't comply?

Do you know how much normal attorney's fees are for a foreclosure? 15% in most states right? Not necessarily, it could be much less if you don't have the right language.

How do you maintain records of payments received and how do you calculate pay-offs (an improper pay-off amount just cost a lender $7,000 to settle!).

How to deal with Chapter 7 & 13 bankruptcies. And how to try to avoid them in the first place.

What is "usury" and how do you calculate it?

How to use your IRA or 401k to make loans and the proper way to title the public documents. If they aren't done properly, you may not be able to foreclose!

How to handle and track loans, step-by-step. How 1098's are handled.

Licensing requirements and how to avoid them.

How to deal with Corporations, LLCs, and Land Trusts as borrowers.

Avoiding consumer loans– How HOEPA (Home Ownership and Equity Protection Act), also known as Section 32, RESPA and Predatory Lending Acts affect you and your loans.

What's the penalty if you don't comply?

How EPA and the state environmental agencies figure into your loans.

Why loan-to-value has little meaning, you should look at investment-to-value.

How a DUE ON SALE clause can make you money. (No, not just the way you think.)
"I EVEN PAID FOR MY ATTORNEY TO ATTEND LAST YEAR."
"If you are thinking about getting into the hard money lending business, this is a must attend class. To steal a line from Dyches, "Anybody can make a loan, the trick is making good loans" and Dyches teaches you how to make good loans.
I've been to the class the past three years and plan on attending again this year. I even paid for my attorney to attend last year. The class is just that good! Dyches does an excellent job teaching the ins and outs of the hard money lending business and the course manual has been invaluable in my day to day operations.
In addition, Dyches has been most generous with his time in answering my questions during the class."
Wade Munday – PeachStone Capital, Inc. www.peachstonecapital.com
Difference between a balloon and a call and which is better.

Credit Line and Equity Participation Loans structured for Investors (and how to avoid low returns).

Adding "Money Stretchers" to loans.

Using "Must Takes" to get rid of dog properties you may have.

Why you should never make phone calls to debtors.

Why you should never let debtors send their payments to your home.

The Closing Protection Letter and why it is important to you as a lender.

Bridge, building & construction loans up to 5% per month in some states – well secured!

Split-Capitalization & Partnering Loan programs designed for a tight real estate market! (You and your borrowers will love these!)
"GREAT COURSE!!
I made an additional $16,500 on my next deal by now knowing what to do with a defaulted balloon payment. Knowledge is everything in this business."
Pete Topken, Greensboro, GA.
Alternatives to escrows – keeping it simple and making money at the same time.

The attorney gets all the attorney fees at foreclosure, right? Not necessarily, you can participate if you know how.

Partnering on deals/split funding/using WRAPs.

Other ways to structure funding that can generate even greater returns.
Hear what others had to say about Dyches' Hard Money Lending course:
"This was the best class I've taken on real estate investing. The instructors were incredible and I would recommend it to anyone." – Bob Copeland (Atlanta, GA)
"If I had taken the class before writing the mortgages, my monthly cash flow would have been greater. Best class I have taken in terms of necessary info for my business."– Anonymous (Houston, TX)
"Attending for a second time was well worth the money. It reinforced many areas covered first time through."– AWH (Fayetteville, GA)f
Online Only
This course is being presented as an online class.
Included with your registration:
A 300+ page physical manual shipped to you a few days before the class begins
Online class presented over several days totaling 10-12 hours of instruction
Video recordings of all sessions available to you during the class and for a couple of months afterwards
Full set of electronic loan documents including an extensive collection forms, clauses, etc.
Invitation to join live Q & A video sessions (recordings of these sessions will also be available afterwards)
Special Bonus – one-on-one consult with Dyches for up to two hours scheduled during the class (up to $800 value!)
Registration Info:
Click on 'Events'
About GaREIA Past President, Dyches Boddiford
Dyches Boddiford (pronounced Dykes) grew up on a farm in rural South Georgia, 10 miles from the small town of Sylvania.
Dyches attended the Georgia Institute of Technology, graduating with a BS degree in Physics in 1971, a MS in Information & Computer Science in 1972 and post-graduate work in 1973. Though never having had an electrical engineering course, he accepted an offer from a small Atlanta company as an Electrical Engineer beginning in 1973.
In 1980 he began to learn about real estate and buy property on a part-time basis. His first property was his own home, but soon was picking up rental properties as well.
Then around 1984, because of his travel schedule, Dyches began studying and purchasing discount mortgages. He saw this as a way to invest in real estate without the need to deal with the property itself. But even then, he continued to add properties to his portfolio for the tax advantages and appreciation.
In 1986 he formed The Oaks Group, Inc. to handle real estate related activities. The first purchase was an apartment complex.
After making a couple of job moves, the original company with which he had worked contacted Dyches and convinced him to return to them. Over the next few years he moved up to Vice-President of the holding company.
In 1991, a national company on the New York stock exchange purchased the company for which he worked. They reorganized the company and Dyches was let go. At that point, he was in the third year of a five-year plan to replace his salary with his real estate income. He began working full time in his real estate investments and in 1992 earned more than he had working for his old employer. His regret is that he didnt go full-time 10 years earlier.
During 1991 Dyches was President of the Georgia Real Estate Investors Association (GaREIA). He was instrumental in securing the first permanent office space GaREIA enjoyed.
During the early 1990s most banks and financial institutions were unwilling to finance manufactured homes. Dyches saw this as an opportunity to profit. He studied what others were doing and devised his own program to purchase used homes cheap and sell them with owner financing at retail prices.
During the late 1980s, Dyches and another investor had researched the use of land trusts in Georgia. By 1992, they decided that because they were getting so many calls asking about trusts, they would teach a weekend class for GaREIA. Dyches also added a Corporation segment to the session to show how other entities could be used with the trusts.
Over the next couple of years, Dyches was approached by a national seminar promoter to teach Corporations for him. Thus the Corporate Fortress was born and has subsequently been licensed by an attorney to use with a presentation he makes nationally.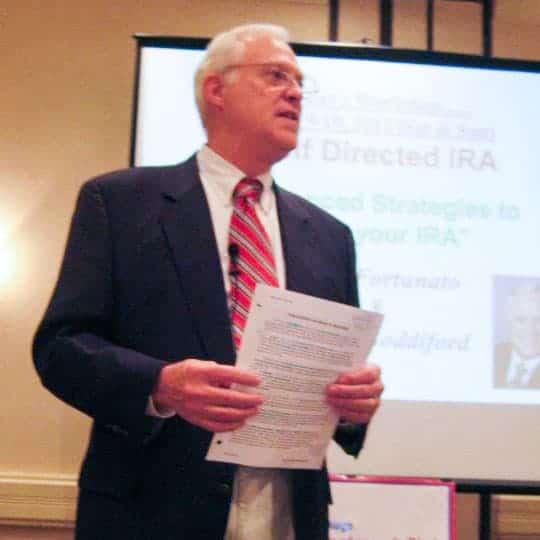 Dyches also developed his Mobile Home Money Machine course to teach others how to make money as he did in manufactured homes. When he began to develop subdivisions for mobile homes, he joined Newton Boykin in writing the book Deals in Dirt.
Even though he has added additional courses over the years and is a national speaker, Dyches has remained a full-time real estate investor. That is his main business and feels that only by being active in real estate investing can he bring real world experience to his classes and materials.
Dyches has written books and teaches seminars on Financial Freedom, Asset Protection, The Corporate Fortress, Limited Liability Companies & Partnerships, Real Estate Investment Using Self-Directed IRAs, Advanced Strategies, Business Tax Strategies, Estate Planning with Asset Protection, Guerrilla Bankruptcy Tactics for Creditors, The Mobile Home Money Machine, Deals in Dirt, Discount Notes & Mortgages, Private Money Lending  as well as other topics.
October 5, 2020




8:00 am - 5:00 pm